Our Family's Cornbread Dressing
Kim M.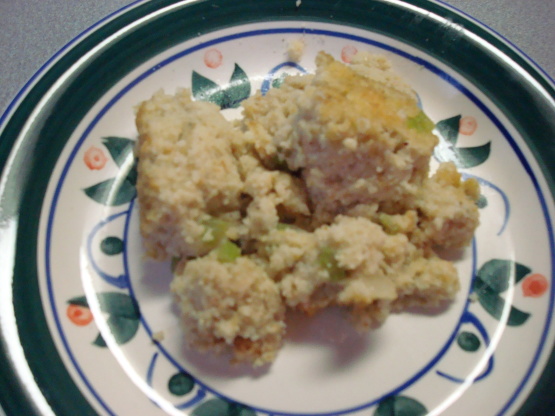 This makes a lot of dressing. It is the exact recipe that I used for our Thanksgiving "food gathering".

This recipe is almost exactly like my family's cornbread and giblet dressing recipe. In addition, we just add 3 cups of chopped white and dark meat chicken, and a pound each of cooked chopped chicken liver and gizzards. Even the pickiest eaters ask for seconds of this delicious dressing.
Bake 4 8x8 inch baking dishes of cornbread. Allow to cool and crumble.
Brown celery and onion in margarine and bacon grease. Spread precooked cornbread in disposable turkey roaster pan sprayed with cooking spray. Stir in all ingredients. Bake at 350 degrees for 1 1/2-2 hours. May spoon additional turkey drippings over dressing if it begins to dry out before meal time.