Oriental Asparagus and Mushrooms
awalde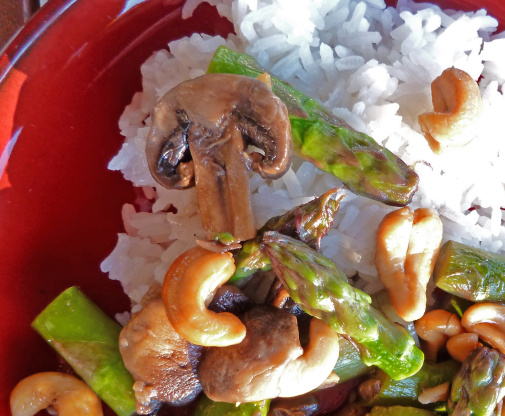 Taken from a nut website, and tweaked, this is yummy!

Wonderful recipe and excellent exactly as written! I did however use vegetable broth in place of the white wine, as I had some vegetable broth open in the frige. I also added some slivered sugar peas to the mix and served over white rice. Once again, you have provided us with an excellent and very tasty supper! Thanks so much, Sharon123!
Wash and trim the asparagus. Cut the asparagus into pieces about 1 inch long, reserving tips. Heat the oil in a skillet or wok until hot. Add the garlic, the asparagus and mushrooms. Stir fry for about 2 minutes (or to taste). Now add the wine, soy sauce, the asparagus tips and cashews. Mix well and stir fry for 2 more minutes. Serve warm.