Suzie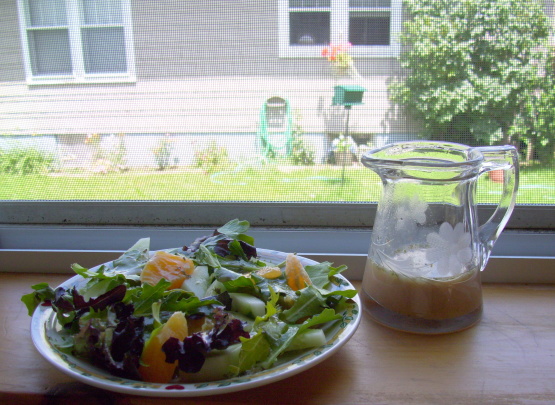 Sweet and tangy vinaigrette. Can be used as a marinade for chicken too!

Top Review by Suzie
Made for Spain & Portugal's June, 2010 Tag Game - ORANGES! I halved the recipe and still had waaayyy more than I'll ever use. I tried it both ways--as a salad dressing for a spring salad of mesculan greens, oranges and cukes, as well as a marinade for chicken breasts. I'm having difficulty rating this because, for me, it tasted too much like a marinade to use as a salad dressing, and even as a marinade for the chicken, there was just too much of an aftertaste. For these reasons, I want to be fair and NOT rate this recipe. It's obvious others truly enjoyed it. My taste buds, unfortunately, were not happy campers. But as in all lessons learned...Nothing ventured...nothing gained. How will you know unless you try something? Thank you for posting.
Mix all ingredients together.
Serve over salad.
Store in the refrigerator.