Jessie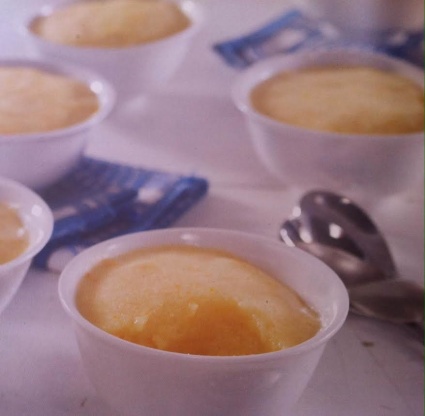 When I was 13 years old, I always made this dessert for my family and they loved it so much. I made Orange Pudding every Sunday and yes it is so easy a 13 year old can make it ...... I hope you enjoy
Wash the Orange in cold water and wipe dry.
Grate the outer yellow rind of the Orange on the finest grid of the grater.Remove the grated grind from the grater with a fork. You should have about 5ml of yellow grind, it will look like an oily pulp.
Cut the orange in half with a vegetable knife and squeeze juice with a citrus juicer.Pour the juice into a measuring jug. Add more orange juice until you have 500ml.
Measure out 60ml cold water into a tea cup. Sprinkle the gelatine powder on the cold water so that all of it gets wet, leave for 5 minutes until it thickens.
Pour the 60ml boling water on the gelatine and stir with a teaspoon. It will become clear when the gelatine has dissolved.
Separate the eggs carfully. Drop the egg whites into the small mixing bowl and the yolks in a large mixing bowl.
Whisk the egg yolks with an electric hand mixer . Whisk the sugar in 1 tablespoon at a time . The mixture will become creamy and light.
Add the orange rind and orange juice ( this was in step 3 ) Stir with the tablespoon. Add the gelatine and stir until well mixed.
**Leave the mixture in the fridge until partly set. ( Put a spoon through the pudding to make sure that it has partly set)**.
Wash the whisk and dry it throughlty. Whisk the egg whites until a stiff white foam clings to the whisk. *** DO NOT WHISK ANY LONGER *** Whisk the partly set pudding with the same whisk ( you don't have to wash the whisk ;D ).
Fold the stiff egg whites carefully into the thick orange pudding using a table spoon. DO NOT STIR .
Pour the orange dessert into pudding bowls and allow it to set properly in the fridge .***** serve it with cream or custard *****.