Orange Pancakes With Orange Sauce
PaulaG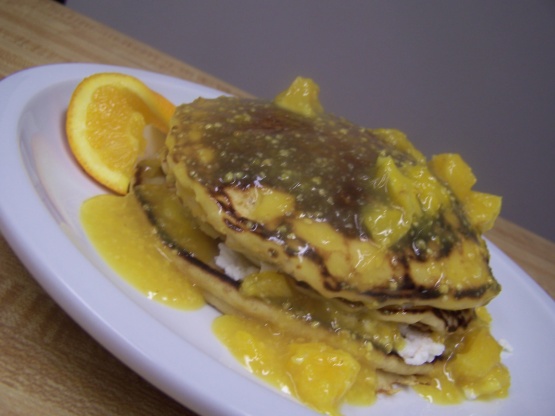 A perfect treat for a weekend brunch. It makes a nice presentation and is also very tasty. Three pancakes are stacked with layers of ricotta cheese between them and served with a warm orange sauce. Adapted from The New American Diet Cookbook.

A fabulous pancake recipe, Paula. The orange juice, zest and segments and the honey made these so superbly flavoursome. 'Twasn't brunch time, nor the weekend - though they'd certainly be an excellent brunch dish - but a light Tuesday evening meal, enjoyed by a friend and me. We ate these with fresh strawberries - always a superb accompaniment to oranges - and strawberry champagne. I made them on my electric pancake maker. Easy to follow instructions, and very easy to make. I used a creamy Greek ricotta, not as low in fat but yummy! If you like the sound of this recipe, but don't like ricotta, you could use cream cheese, yoghurt or icecream. I'll be making these again, and next time I'm going to try them with Greek yoghurt, and I'm going to add a dash of liqueur to the sauce!
For the sauce, mix the cornstarch, orange rind, orange juice and honey in a small saucepan.
Bring the mixture to a boil over medium heat, stirring constantly until thickened.
Remove from heat and stir in the butter until melted.
Add orange sections to the sauce just before serving.
For the pancakes, combine the flour, baking powder and orange rind.
In a seperate bowl, stir together the egg white or egg substitute, honey, milk, orange juice and oil.
Stir wet ingredients into the dry just until moistened.
On a well seasoned griddle that has been sprayed with non-stick cooking spray bake 3 pancakes; using 1/3 of pancake mixture for each.
To assemble, spread 1/2 the ricotta cheese on top of first and second pancake topping with small amount of warm orange syrup.
Top stack with final pancake and pour remaining warm sauce over all.
Cut into fourths and serve.