Orange New York Cheesecake
Chickee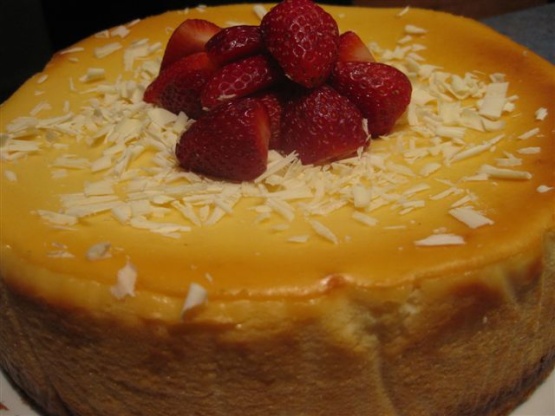 Based on a recipe from Women's Weekly's "Fresh" TV show.

Wasn't sure if I was gonna be able to find orange cream-filled biscuits, but finally did & was able to make this great-tasting cheesecake! Except for using a very generous measure of orange zest, I pretty much followed the recipe, & the first serving was with a side of homemade cranberry sauce that I find goes well with most everything! Thanks for sharing this great keeper recipe! [Made & reviewed for one of my groupmates in the AUs/NZ Recipe Swap #37]
Preheat oven 160°C/140°C (fan forced). Grease a 24cm round spring form pan.
Line base and side of pan with baking paper, extending paper 4cm above edge of pan. Place onto an oven tray.
Process biscuits and butter in a food processor until mixture resembles fine breadcrumbs.
Press over base of prepared pan and chill for 15 minutes.
To make filling, process cream cheese, sugar and cream in a food processor until smooth.
Add eggs and zest, and process until combined; pour mixture over biscuit base.
Cook for 45 minutes, or until just set. Turn oven off and leave to cool in oven for 1½ hours. Refrigerate overnight.