Splenda New York Cheesecake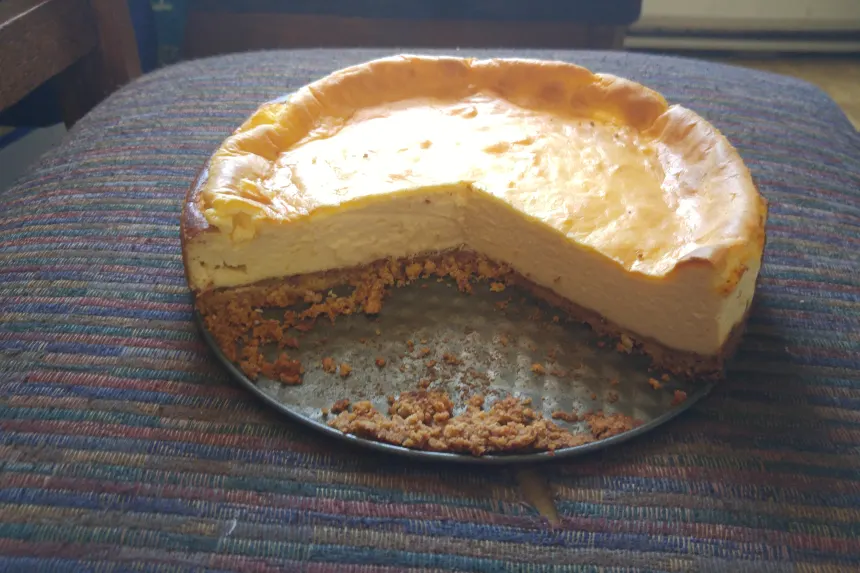 photo by thewordthatpierces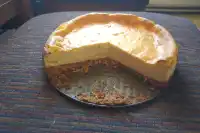 Ready In:

2hrs 30mins

Ingredients:

9
directions
Preheat oven to 475°F.

Make crust:

Mix crust ingredients together and press into a 10-inch springform pan (I use a 2 1/2 qt glass casserole).

Make Filling:

Beat cream cheese, Splenda Granulated and flour in a medium bowl until well mixed and smooth.
Add eggs and beat until smooth.
Add vanilla.
Scrape sides of bowl.
Mix briefly and add heavy cream. Mix until well blended.
Pour filling over crust.
Bake 10 minutes at 475°F Turn oven temp down to 200 degrees F and bake for 1 hour. Turn oven off and leave Cheesecake in oven for one more hour. Cheesecake will be slightly firm to the touch. Let cool 15-20 minutes before placing in the refrigerator. Refrigerate a minimum of 4-6 hours or preferably overnight before serving (if you can wait that long).
Questions & Replies

Reviews
My In-laws & especially my husband LOVE cheesecake but I hadn't made my husband one since he'd been diagnosed with Type 2 Diabetes at the begining of the year. I couldn't imagine having a Thanksgiving dinner this year without any desserts and I found this recipe! It was perfect! Everyone loved it (even our resident New Yorker) and you are exactly right no one can believe it has no added sugar. I too used the fat free cream cheese and served low fat cherry topping on the side. My husband even asked me to make him one for his birthday earlier this month. So this recipe is definately a keeper. Thanks for posting this here, Louder!

 

The only change I made was using ground almonds in the crust and arrowroot powder instead of flour in the cake to make it was Keto friendly as possible, normally, those want to use eurythratol on the Keto diet but I do not have any. I love cheesecake, and while this isn't the best cheesecake I've had, it was very good, and when you want something, but without all the sugar, this is a fantastic recipe that I will definitely use again. I am sad I couldn't make it exactly as directed, but they were very minor changes necessary for the diet my husband is on. :-) although it was really more for me, so next time, I might reduce the eggs to make it just a little bit denser, as I prefer a VERY dense cheesecake, and this cheesecake head air bubbles in it, and while not fluffy, was not at all dense and thick. God Bless ~Amy

 

This was great! Now, I gotta tell you that it is also a three day project. First Day: Go to restaurant who always has sugar free cheesecake to order one for DBH's birthday. Find out they removed it from the menu. Day Two: Find recipe on Recipezaar, go buy all ingredients and try to cook. Put out fire from mixer catching on fire. Put all ingredients in re-fri, since it's Sunday and all stores closed. Day Three: Go to store and ignore all features of mixers OTHER than wattage,. Buy most powerful. Retry recipe. It really is worth the effort. Seriously, once it's made it's great. Next time will try putting some cocoa in for a choco delite.

 
RECIPE SUBMITTED BY
Retired to Costa Rica in 2005. Divide my time between browsing the internet, painting the house and baking/cooking. Make my own bread, and love trying new desert recipes. Im diabetic so try different things to keep the sugar down. Part of my problem here in Costa Rica is finding ingredients listed in recipes. I'm sure that if I lived in San Jose, i would be able to find everything I need. However, I live 3 hours away by bus (no car)so I spend alot of time looking for substitutes and even then, I have problems finding the ingredients for the substitutes. It can get frustrating. Needless to say I spend alot of time looking for things that I can make with what I know is available locally. And, hopefully won't take several hours to put together. Even when a recipe says its fast, for me that is not necessarily true. I know that next time I go to San Jose, I will stock up on what I can manage to carry home with me. Many times I will see something locally that I have been looking for, but in two weeks it will be gone and they won't restock it LOL. They stopped stocking peanut butter, I couldnt get an answer. That was 4 months ago. This week they have it again. ??? Anyway, its been a challenge cooking here.
View Full Profile