momaphet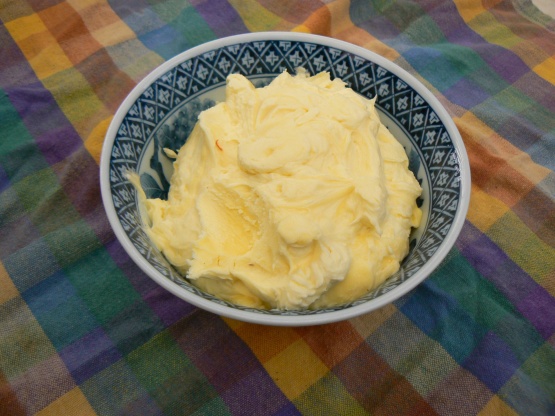 Yummy as a spread on hot rolls or toast. Makes a great gift. Stores indefinitely in refrigerator. Indicative of man regions for ZWT especially those with citrus crops, pastries to top with fancy flavored butters and those countries who still observe TEA! France, Britain, etc... Note: This has a TON of sugar- thanks to fantastic reviewers I can offer this suggestion- start with 1/4 cup sugar (4Tbsp) - taste a bit and add more sugar to taste!

This is delicious, however, I just could not bring myself to add a whopping pound of sugar to less than 1 cup of butter! I added 4 Tablespoons and that amount was perfect. We eat this with #14988. Yum!
1⁄4 cup frozen orange juice concentrate
2⁄3 cup butter, softened

1

lb powdered sugar

1

teaspoon orange rind, grated (optional)
Put all ingredients in bowl and mix until all ingredients are combined.
Spoon into one or several jars or containers and refrigerate.
NOTE: This is best made with REAL butter not margarine.