ImPat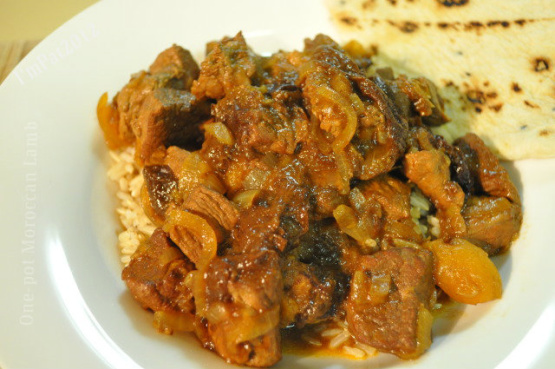 A quick to assemble recipe that smells wondereful and tastes even better!

Top Review by Bergy
Heavenly scents from this Heaven sent meal. The lamb is succulent and bursting with flavor. I made a mistake - I thought, and you know what thought did, that I had a bag of Prunes at home - not so! I substituted raisins, still excellent. I served it in whole wheat pitas, obviously eaten with knife and fork ,along with some tomato & sweet onion. Thanks Jans for another lamb keeper.
Heat the oil in a large saucepan.
Add the meat in small batches, and cook over a medium heat until well browned.
Return all the meat to the pan.
Add all the remaining ingredients (except the almonds) and season with pepper.
Bring to the boil, then reduce the heat and simmer covered for about 1 hour or until the meat is tender.
Garnish with the almonds, and serve with rice.