CoffeeB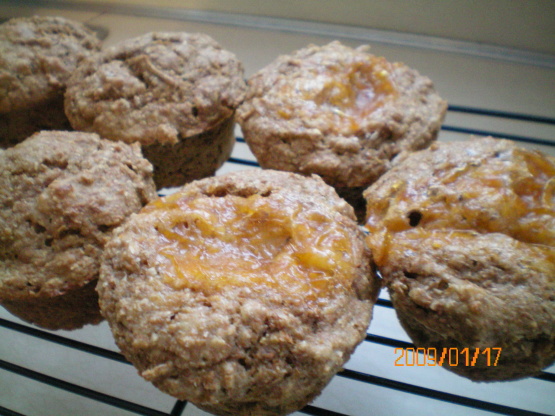 These are supposed to last 6 weeks in the fridge, but I make them all - split the mix and make different sorts, then freeze them so my husband has something nice for morning tea! I usually do choc chip (add some cocoa to the batter too), date, apricot jam-filled (with a bit of ground almonds in the batter) and plum jam-filled (with ground hazlenuts and mixed spice in the batter). Please note these are Aussie cup measurements (250ml). I've never been able to 'cream' the oil and sugar but it doesn't seem to matter.

I really like the flavor of these muffins Chickee. And, best of all they're practically guilt free. Well, I made them as guilt free as I could. I took the advice of the previous reviewer and used mostly applesauce and about an 1/8th cup of canola oil. I should mention that I halved this recipe too as I"m the only one here that will eat a bran muffin. I got 10 good size muffins by 1/2ing the recipe. I used SF Apricot Preserves in 5 of the muffins and left the others just plain. I wasn't sure what unprocessed natural bran was and so I used unprocessed wheat bran. I don't think it made a difference in the overall outcome. Thanks Chickee!! Made for AU recipeswap #24.~
Pour boiling water over bran and allow to cool.
Cream oil and sugar then add eggs, beating in each one well.
Gradually add buttermilk.
Add the bran mixture, then stir in the flour and bicarb soda.
The muffin mix can be stored in the fridge for up to six weeks - the mixture will gradually start smelling sour but this is just the buttermilk and bicarb doing its thing.
Each time you want a batch of muffins, scoop out required quantity, add chopped fresh or dried fruit, nuts, chocolate and spices to taste, spoon into greased or papered muffin tins and cook at about 200C for 15 to 20 minutes.