Olive Garden Pasta E Fagioli
JNordman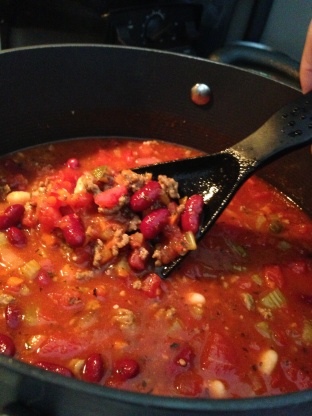 This is from an old "Top Secret Recipes" cookbook we found this summer in a garage sale. This soup is AWESOME!

I made this tonight. I found it in the Todd Wilbur copycats from his" Top Secret Recipes 2" cookbook. It was delicious. I doubled the recipe and served 10 people and have a lot left over to make into lunches. Everyone loved it and wanted the recipe. This one is a keeper. The dicing and julienning get tedious but are WELL worth it. You will love it. I think it really is the real copycat. It tastes just like the Olive Garden version. By the way Great Northern beans are white kidney beans or cannelloni beans. Rachie P ,thanks for posting this so I could review it. Enjoy! ChefDLH
Brown ground beef in large saucepan or soup pot. Drain.
Add onion, carrot, celery, and garlic.
Simmer 10 minutes, then add remaining ingredients except pasta.
Simmer 1 hour.
Add cooked pasta.
Simmer 5 minutes, then serve!