Bev I Am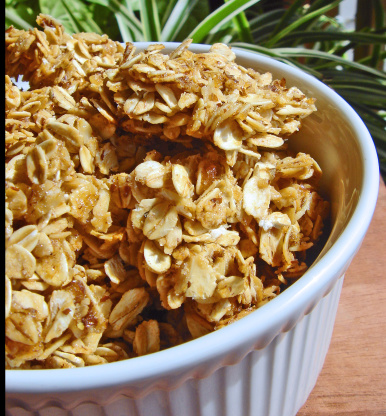 This smells so good while cooking! Makes a great cereal or snack, and of course tastes like a great oatmeal cookie. The directions call for cooking on a greased cookie sheet but I used a silpat mat and it worked great.

Solid recipe. Works nicely. I used wheat germ instead of flaxseed for my picky eater, and it's a hit.
Preheat oven to 300 degrees.
Combine oats, flax, brown sugar, salt, cinnamon, and nutmeg in a large bowl.
In a small saucepan, melt butter and add honey.
Once it starts to simmer, remove from heat and quickly stir in extract. Mix well, and pour over dry mixture. Mix to coat thoroughly, and place on a greased cookie sheet.
Place into the oven and bake for 20-25 minutes, until done.
Allow to cool completely, break into large pieces and store in an airtight container.
*Note - granola nuggets form better if you stir the granola as little as possible while baking, and don't stir it at all while it's cooling.