heidi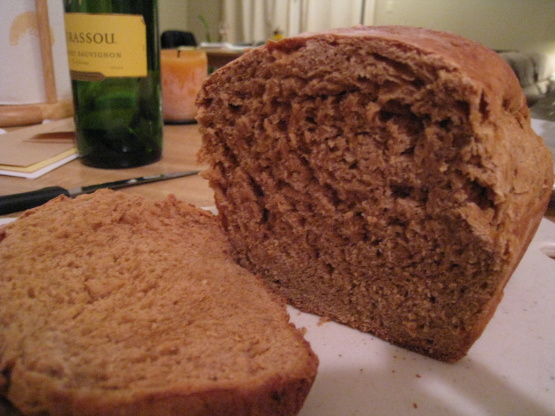 Foolproof and absolutely delicious!

I made this with about 3/4 Tbsp. of salt (perfect amount for me), using whole wheat pastry flour. I had to add at least 1 cup more of flour so it would not be sticky, so I could knead it as suggested by another reviewer. It didn't seem to rise very well, so maybe next time I will jut try to bake it sticky, without more flour and without kneading. Although, I think it would be too sticky to even shape into a ball (step 5) as the recipe is. the taste is very good, so it is definitely worth another try.
Pour boiling water over oats; let rest 2 hours.
Sprinkle yeast over lukewarm water; stir until dissolved.
Add to oats with molasses, salt and butter.
Stir in flour, beating with wooden spoon until well mixed.
Shape into ball.
Place in a buttered bowl, cover with tea towel and let rise in a warm place for 1 hour and 15 minutes.
Punch down, then beat again until smooth.
Divide batter into 2 buttered loaf pans.
Let rise until doubled, about 40 minutes.
Bake in 375 oven for 40-45 minutes, or til loaves are golden and pull away from sides of pan.