Norwegian Rhubarb Compote
K9 Owned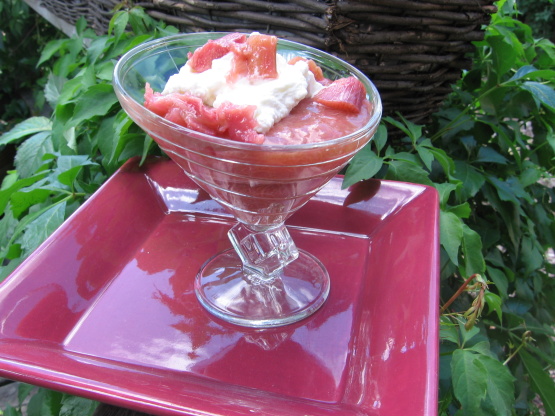 Posted for ZWT 6. Adapted from norway-hei.com Can be enjoyed warm or chilled. Number of servings is an estimate.

Delicious! Just what I was looking for. I had some frozen rhubarb that I was wanting to use up and was craving a tart topping for vanilla ice. This recipe fit the bill perfectly. Thanks for posting!
Cut rhubarb into 1/2 inch pieces.
Heat water and ¾ cup sugar to boiling, stirring occasionally.
Add fruit. Simmer uncovered for about 10 minutes, until rhubarb is tender.
Thickening:.
Mix ¼ cup water and cornstarch; stir into rhubarb.
Heat to boiling, stirring constantly. Boil 1 minute and stir over medium heat. Note: Rhubarb will burn if not stirred! Stir in vanilla extract.
To serve:.
If using glass serving bowls, be sure to temper with warm water first, otherwise the glass will crack.
Pour into serving bowl or individual dessert bowls.
When ready to serve, beat whipping cream with 2 tablespoons sugar in chilled bowl until stiff.
Pipe cream through decorators' tube or spoon onto rhubarb compote.