Norske Kjøttkaker, Norwegian Meatballs
Dav59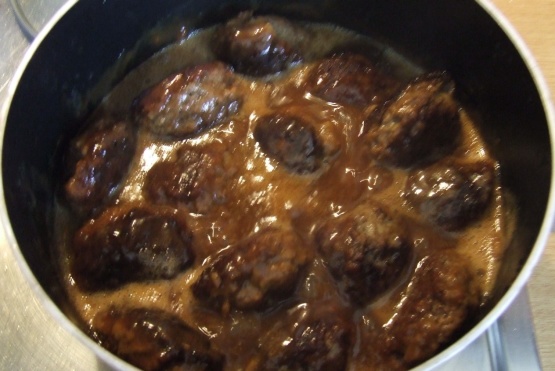 "Kjøttkaker" is on every Norwegian menu. I do not use a recipe, so mine taste a little different every time. I wrote down the following recipe yesterday, and the whole family agreed that these "Kjøttkaker" rocks. Note to Nyteglori: Tangy sauce will make it something else. Authentic Norwegian Meatballs have brown gravy .
Chop the onions in a foodproccesor.
Add all the other ingredients, except the butter and gravy. Pulse until mixed together. You can also do this by hand.
Shape 12-14 meatballs and fry them in a frying pan in 1/2 stick of butter over medium heat.
Make the gravy according to package directions. I use McCormick Brown Gravy, Mushroom Gravy or Onion Gravy.
When the meatballs are nice and brown, add them to the gravy and simmer for 30 minutes.
Serve with boiled potatoes and vegetables.