CandyTX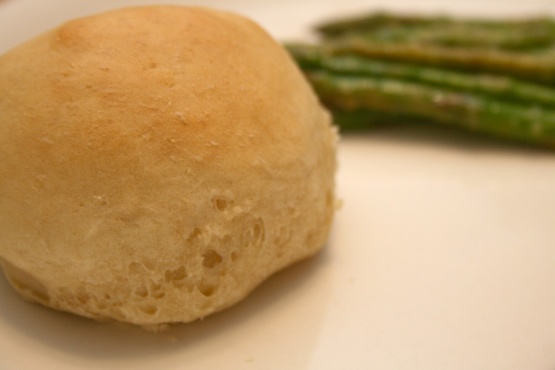 These rolls are my very favorite in the world...I can remember my friend' s mother, Norma making these rolls, and coming in from outside. The smell of them cooking leaves you begging for just a taste :) They have been used in my family for 47 years :) These are especially delicious with beans!--------------- NOTE: 1 (1/4 oz.) package dry active yeast = 2 1/4 teaspoons = 1 (.06 oz) cake compressed fresh yeast.

I love how the only 1 star rating for these rolls was from someone who did not even follow the recipe and decided to use whole wheat flour, then complain that these are dry. Stick to the recipe and these will be soft as snow and sooo yummy. I did not roll these out. I have learned that rolling out your dough makes it tough. I just sprayed cooking spray on one hand and rubbed hands together, then grabbed a nice size chunk of dough and threw it on a baking stone. I place them close together so when they were done you had to tear them apart. I also spread the tops with butter right out of the oven. these are to die for. Oh and lowered the temp to 350. I am from the south so we are not high altitude here. Thanks!
Mix all and knead on a floured surface for about 10 minutes.
Let rise 20 minutes and knead again.
Make into rolls, using a floured glass to cut out, and place on a lg. greased pizza pan.
Let rise 20 minutes or until double in size.
Bake at 375, for 20 minutes.