Destini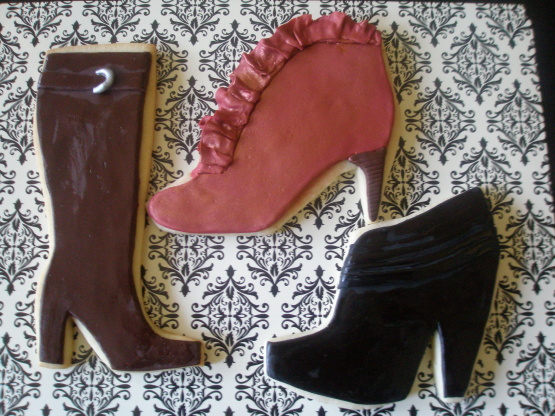 I found this while buying a cookie cutter for DH's B-day. The claim is that these cookies won't spread during baking, so it is perfect for intricate cookie cutters. Make sure you preheat the oven for at least 30 minutes.

This is my 'go to' recipe for rolled cookies. I make some very beautiful fondant covered and royal iced cookies as gifts and to sell with this recipe. The shapes are retained so well, especially important when using very intricate cookie cutters. I found this recipe almost 5 yrs ago on www.cakecentral.com . It is the one most of the cookie and cake decorators use. For spring and summer cookies, I like to use lemon extract and a tablespoons of lemon zest. I often add almond extract for Christmas holiday cookies. These are always a hit on the cookie platter. The flavor of these sugar cookies is the best of any other recipes I've tried as others tend to be bland.
Cream butter and sugar.
Add eggs and vanilla.
Mix dry ingredients and add to butter mixture.
Mix well.
Chill for 1 to 2 hours or see HINT below.
Roll to desired thickness and cut into desired shapes.
Bake on an ungreased baking sheet at 350 degrees for 8-10 minutes or until just beginning to turn brown around the edges.
HINT: Rolling out dough without the mess-rather than wait for the dough to chill, take freshly made dough and place a glob between two sheets of parchment paper.
Roll it out to the desired thickness then place the dough with paper on a cookie sheet and pop it in the refrigerator.
Continue rolling dough between paper until you have used it all.
By the time you finish preparing the dough, the first batch will be chilled and ready to cut.
Reroll left over dough and repeat the process.
An added bonus is that you aren't adding any more flour to the cookies by rolling them out the old fashioned way.