No-Crust Lighter Pumpkin Pie
ladypit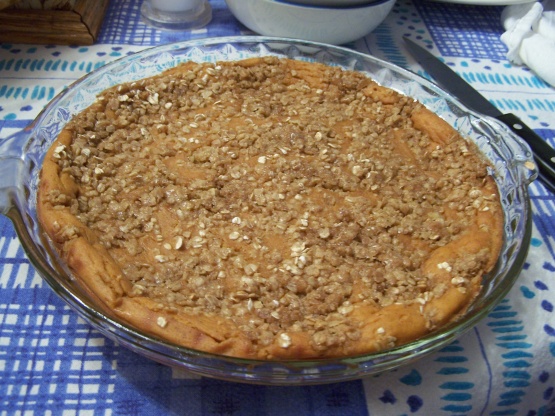 I found this on the Betty Crocker website, looking for light version of my favorite holiday goodies!

Top Review by 122874
This pie was TERRIFIC! It was delicious and I loved not making a crust. In a pinch, I learned that there is an emergency replacement for evaporated milk (reconstitute non-fat dry milk, but reconstitute with only 60% of the required water). I used fresh lemon zest, as I didn't have an orange. This recipe was immediately labeled a family favorite. It smelled so good coming out of the oven, we ate a piece while it was warm. Thank you for a wonderful recipe!
Heat oven to 350°F.
Spray pie plate, 10x1 1/2 inches, with cooking spray.
Make Brown Sugar Topping by combining topping ingredients.
Place pie ingredients in blender or food processor in order listed.
Cover and blend on medium speed until smooth.
Pour into pie plate and sprinkle with topping.
Bake 50 to 55 minutes or until knife inserted in center comes out clean.
Cool 15 minutes, then refrigerate about 4 hours or until chilled.