Zurie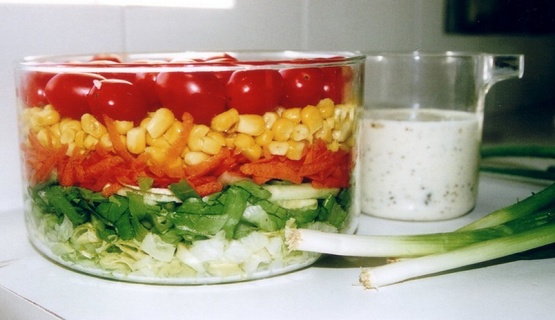 This is a very pretty salad, be sure to serve in a clear glass bowl.

This is a yummy dressing!! I changed a couple things to make use of veggies I had...so I only used 1 cup of tomatoes and replaced them w/ radishes and celery and red cabbage. I think to make as written would be best with all the tomatoes, even so, it did seem a little too much dressing. Next time I will keep the dressing to the side. Live and learn! Thanks, will make this again.
Combine all dressing ingredients and whisk together well.
Refrigerate when done.
(Note: You can thin the dressing with some buttermilk if you prefer) Prepare salad ingredients.
Starting at the top of the above list, place each ingredient in the bottom of a clear glass container.
For instance, iceberg lettuce goes in first, followed by the romaine lettuce, the julienned cucumber, the carrots and so forth.
Don't be afraid to pack or compress the ingredients a bit as you go if you're running out of room.
If you're serving the salad soon, add dressing when each layer is finished.
Otherwise, reserve dressing until just before serving.
When finished, refrigerate.