Elkaybee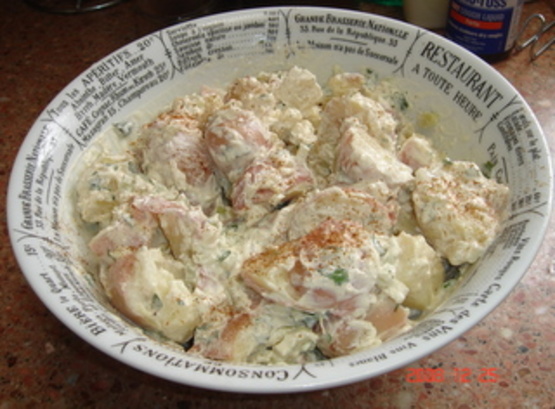 i thought i had posted this ages ago, but i guess not. this was originally from womans day 7/91 i've adapted it through the years

I liked this recipe because the worcestershire sauce gave it a little zip that ordinary potato salad doesn't have. I added a little less basil, as it's not a favorite herb of my family's. Also I didn't add onions for dietary reasons, but used onion powder instead. Overall it was a nice change of pace.
in a large pot, bring potatoes to a boil with lemon juice and kosher salt.
bring to boil, lower to simmer and cook 12-15 minutes, until you can pierce it with a skewer or knife, drain and cool for 15 minutes, or until you can handle them meanwhile, mix dressing ingredients together in a medium sized bowl.
prepare a large bowl.
cut potatoes in quarters and add to the large bowl.
drizzle with vinegar, salt, pepper, stir.
add dressing,.
refrigerate 3 hours or up to 3 days.