New Potato and Green Bean Stew
Ms B.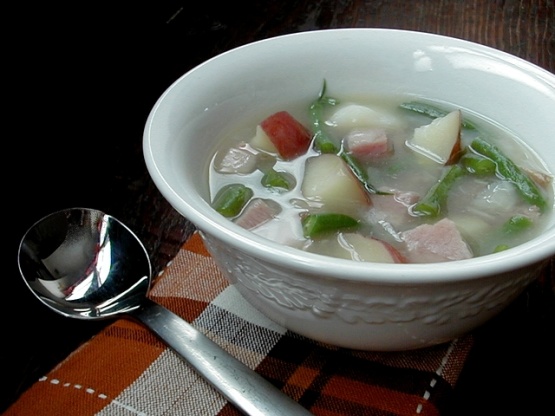 This is serious comfort food, and a way to get them to eat more veggies.

Made this for Spring PAC 2013 and it was quite good. I cut the recipe in half and I did have everything on hand. I did add a little minced garlic (love garlic) and a little hot sauce before serving being we do like a little kick. Thank you for posting.
Clean and cut up all the ingredients.
Place in your soup pot.
Add the chicken stock and enough water so there is an inch of fluid above the vegetables.
Bring to the boil, then reduce the heat to medium and cook for 20 minutes.
Turn the heat down to low and simmer till the green beans are tender.
Add a little more broth or water if this gets too dry.
Add the cornstarch/water mixture if you want it a little thicker.
Serve with cornbread - Yummy!
Note: What I mean by ham steak is those one big slice of ham packages.
You won't need to add salt - the ham has enough for the dish.
This also works in the crockpot.
Boil the potatoes, then add everything to the crockpot 6 - 8 hours on low.