Mooz1961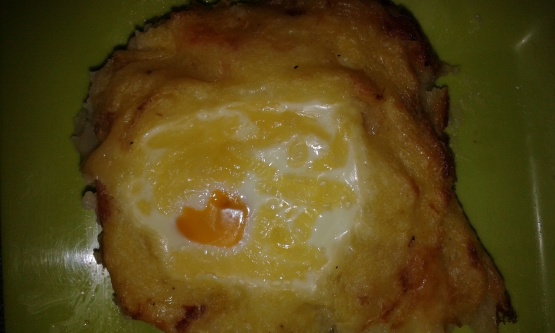 The ultimate comfort food, Mashed potato & eggs, with lots of tasty extras
1. Make a generous amount of mashed potato for 4 people add a knob of butter, a teaspoons of mustard & s&p to taste. Then whilst still hot add a couple of handfuls of grated cheddar cheese.
2. With scissors chop a packet of smoked bacon into small pieces & dice a large onion, fry both until crispy, add to mash.
3. Dice a couple of tomatoes reserving a few of slices, add chopped tomato to mash, mix in well. Then spoon into lasagne dish or equivalent.
4. With back of a spoon make 4 egg size holes, make them slightly larger than you think. Top with grated cheese & decorate with sliced tomato.
5. Break a raw egg into each hole, flavour egg with s&p. When ready to bake, place uncovered into an oven at 190c for approximately 45 minutes or until eggs are cooked (check around the sides of the egg with a knife and top is browned.