Nana's Pork Chop and Sauerkraut Skillet
vrvrvr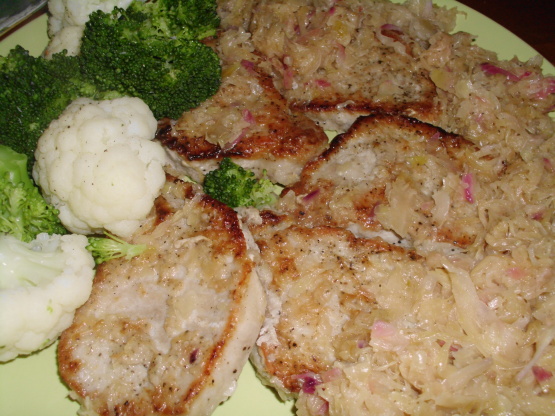 I can still picture my Polish grandmother cooking this on a wood stove. The sauerkraut picks up the browned pork color and flavor. The beans mellow the sauerkraut's bite by absorbing some of the sour taste while adding an unique flavor to the dish.

Top Review by Laudee
My Lord, Girl, this just made the best supper! It's really easy to fix and the taste is DIVINE!! Made it according to your directions, and it couldn't have turned out better! Thanks for sharing a great recipe. It's definitely a KEEPER! Laudee C.
In a large skillet, melt bacon drippings over low heat.
Sprinkle the pork chops with flour and pepper.
Fry the chops over medium high heat until well browned on both sides, remove chops and set aside.
Add sauerkraut and stir to pick all the browned bits, stir in beans and water.
Scrape the sauerkraut and bean mixture to the sides of the pan, place the chops in the center and spoon some of the sauerkraut over the chops.
Cover and simmer 15-20 minutes or until chops are tender.