Rita1652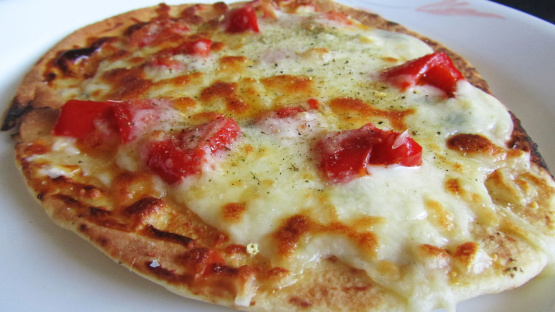 I came up with this one day when I was scrounging around in my refrigerator for something to serve for lunch. Very tasty if I don't say so myself! I bake these on baker's parchment paper.
Pre-heat oven to 400 degrees F.
In skillet, add olive oil, onion and bell pepper and saute for about 10 minutes on medium low heat stirring frequently.
Add garlic and saute for an additional 2 minutes. Remove from heat.
Place naan flat bread on a cookie sheet lined with baker's parchment paper.
Slather on the ranch salad dressing to top side of naan.
Then sprinkle cheese over top, then sprinkle bell pepper mixture from skillet on top of the cheese.
Bake in oven for 15 minutes or until cheese is gooey melted.
Remove and enjoy!