Nif_H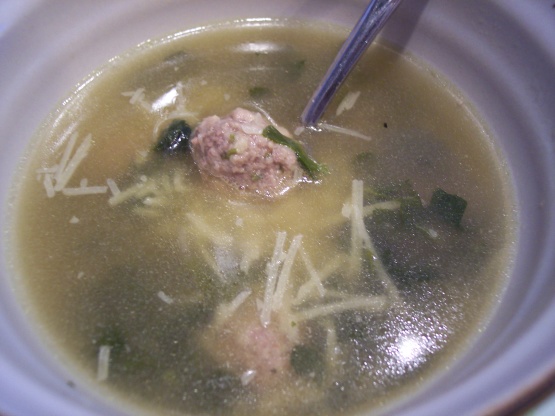 I have over the years tried many of these recipes. I have adjusted so many to come up with my own. Everyone asks for this soup all the time. They can't get enough of it. I make them batches of soup and freeze it for them for their lunches. This is my favorite version. The longest part of this soup is making the tiny meatballs. I usually get the mixture ready at the counter then take it to the table to sit down and make the balls just to save some feet and back pain. But so worth it once you sit and have a bowl full of this wonderful soup.

Top Review by Nif_H
One word - DIVINE!!!!! Delicious version of my favourite soup. I will make this again. And again. And again! I had more beef then pork and added a bit of Italian seasoning because I had plain breadcrumbs. I doubled the orzo because of the breezermom's review and I'm glad I did because I like orzo. YUMMY! Made for Everyday's a Holiday tag. Thanks FrenchBunny! :)
Combine first 8 ingredients for the meatball mixture in a large bowl. Mix well and form into tiny meatballs. I usually make them about 1/2 tsp to 3/4 teaspoon of meat mixture each. I make about 75 meatballs in all. Sometimes I have a little extra meat leftover and just make larger meatballs and cook those for another use.
Bring the broth and frozen spinach to a boil and simmer for about 10 minutes.
Return to boil and drop in meatballs a few at a time. Return to simmer for about 1/2 hour.
Then add in cheese and orzo and simmer another 10 minutes.
Ladle into bowl and grate some fresh Pecorino Romano or Parmesan on top.