Italian Wedding Soup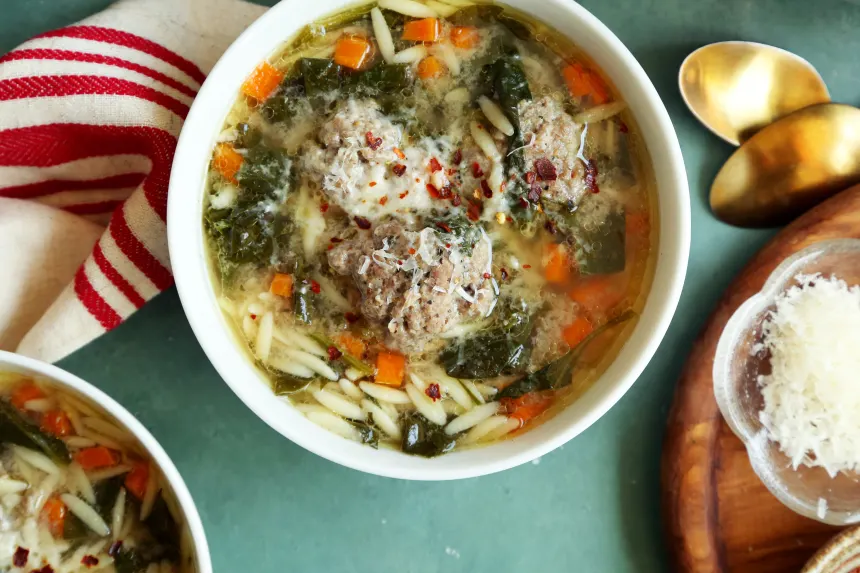 photo by Jonathan Melendez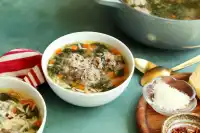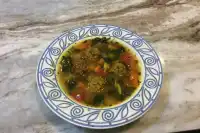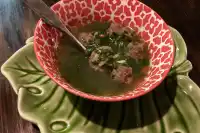 Ready In:

25mins

Ingredients:

11
directions
In medium bowl combine, meat, egg,bread crumbs, parmesan cheese, basil& onion powder; shape into 3/4" balls.
In large sauce pan, heat broth to boiling; stir in spinach, orzo, carrot& meatballs.
Return to boil;reduce heat to medium.
Cook at slow boil for 10 minutes or until orzo is tender.
Stir frequently to avoid sticking.
Serve with additional Parmesan cheese sprinkled on top.
Reviews
I made this recipe yesterday for a client and it turned out yummy! So good that I am making it for my husband and myself tonight! I did make a few changes - I kind of combined two recipes where I made my own stock at the beginning by simmering chicken stock with carrots, herbs, celery and onions. And, I added fresh chopped sage and lemon juice to the meatballs and sauteed them in a dry frying pan just until they were browned to give them a more pleasing color. Then I added them to the broth with the spinach (used frozen chopped) and orzo (I just love orzo). I also added crushed tomatoes, fresh minced garlic, lemon juice and parmesan cheese at the very end and simmered for another 5 minutes or so. Made garlic parmesan toast to go along with it. I love the recipe - and am so glad I found it!

 

I used the tips from Christina1 when I made this wonderful soup! Except I didnt use orzo (because I couldnt find it at the market), I used capelli d' angelo instead, a few cloves minced fresh garlic and some chives... it turned out fantastic! I also browned the meatballs, but used a full pound of ground beef instead. This is a nice example of a recipe you can play with!

 

This soup is incredibly easy and delicious! My husband asked me to make some of this soup, and he had three bowls! I couldn't get him to stop! In fact, I have 1/2 lb. of hamburg left over, and he's asked me to make it again tonight! I'll most definitely be making this regularly for my family! By the way, I used frozen chopped spinach, and added a couple cloves minced garlic, and some black pepper. Delicious!

 
Tweaks
For the meatballs, I used a pork shoulder which I put through my home meat grinder. As it was going through the grinder, I coated the pork with Sazon Completa. For the bread crumbs, I used rye bread toasted very dark with the crust removed. Which was then pulverized with the food processor. There are just too many crud ingredients added to commercial bread crumbs. Including High Fructose Corn Syrup in some brands. For me it is was easier to use a teaspoon measuring spoon to determine the meatball size. They are a perfect mouthful size with that method. For the broth, I added garlic, fresh oregano, fresh basil, and fresh cilantro. However, the base recipe is very good. Even without tweaks. And quick. I cooked it a total of 15 minutes after the broth boiled, and it came out perfectly. I would add that if you have leftover for another day the orzo will tend to absorb some of the liquid. You can compensate by adding more chicken broth, with no loss of flavor.

 

I whisk together 2 eggs and 2 tablespoons parm/romano blend cheese in a small bowl, until blended. To add to the soup, stir the soup in a circular motion and drizzle the egg/cheese mix into the moving broth. This steps adds a new layer of richness to the soup... plus the extra Mmmmm Factor. Using 1/2 ground beef and 1/2 ground Italian sausage is an option, too. I use ditalini for the pasta because it is what we like.

 

I love this recipe and have been making it for years. For a super fast version that can be adapted to whatever amount you want to make, I use purchased frozen precooked Angus meatballs (have tried others but the Angus seems the most flavourful), chicken broth in a carton and I buy the spinach and kale salad mix. While bringing the broth to a boil (1-2 cartons) I slice baby carrots, chop up some spinach/kale, and then add them and the orzo and however many frozen (or partially microwaved) meatballs I want to the boiling broth. Sometimes I wait to put the greens in till the last minute so they're not too limp. Sometimes I add a squeeze of lemon, and/or some grated parmesan. Very adaptable: my daughter gave me some sorrel from her garden so I put some of that in today's version.

 

I added 1/3 cup each of celery and onion to bump up the veggies and flavor. I also added 1 tablespoonful of corn starch stirred into 1/4 cup of cold water to make the broth a little thicker. I added garlic powder and Italian season blend to the broth. Instead of bread crumbs I used oatmeal that I powdered in the food processor.