My "famous" Shredded Chicken
jrusk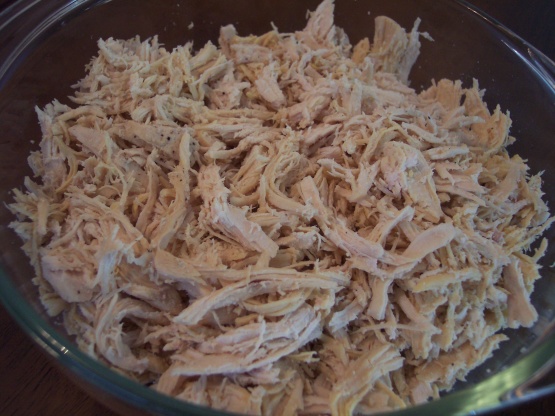 Now, to me this really isn't a recipe, but I was telling a friend how I make shredded chicken for recipes and she said I should post it. It always comes out tender, and has frozen well for me. I usually make double at once for oamc since it is so easy.

Great! Thanks. I used the chicken for a BBQ chicken pizza (w/ Sweet Baby Ray's BBQ sauce, roasted red onions and cheese). So simple and yummy!... and the kids LOVED IT.
5

chicken breasts, I use the boneless pre-frozen halves from Walmart (I have used boneless thighs with good results as well)

1

cup chicken broth. if you value the people you are feeding do not use walmart chicken broth
Place chicken breasts in pan with broth (I have used frozen, as well as fresh- frozen adds to your cooking time).
Bring to a boil.
Turn heat to medium, and let simmer covered for 15-20 minutes (around 10 minutes if yours are defrosted), turning occasionally.
Then turn to medium low and let cook covered for another 60 min (or until shreds with a fork). You may need to add more broth during that hour if yours cooks down.
I have let it cook for even longer with great results.
Let rest in pan for at least 10 minutes, or until you can shred the meat without burning yourself.
If you are saving the chicken for later, place it in a ziplock with the excess broth from the pan.
Enjoy in any recipe that calls for shredded chicken.
You can also add spices/onion/garlic to the meat while cooking, but I like to make mine plain so it will go with any recipe.