loof751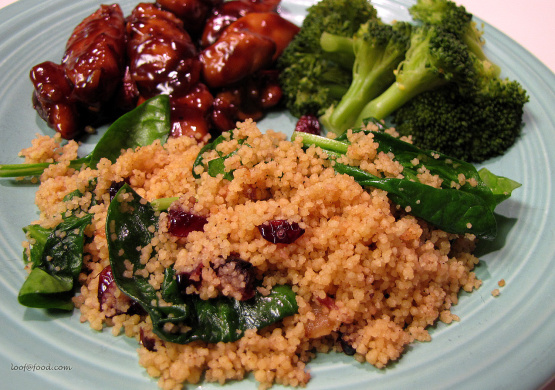 I made this up one day then mom decided she needed the recipe. So here it is in print. It's a beautiful dish. Feel free to substitute different spices for the curry powder - just please tell me what you used & how it turned out! I substituted ras el hanout & it was yummy. Can be made vegan by using 2TB olive oil & eliminating the butter.

Rating as a 5 star as I did not have the spinach leaves! This may have made all the difference to this recipe, which was lovely, but we thought it could do with another element - I am sure the spinach leaves was it!! :-) We enjoyed the addition of the cranberries, this was a great fruity taste to the curry couscous. We both enjoyed this with salad leaves and crusty bread for a light supper tonight! Thanks Bethie, made for the Veg'N'Swap in the Veggie forum. FT:-) (Photos to be posted - noted due to the changes on the 7th July.)
Melt butter with the oil in large saucepan.
Saute onion briefly. Add salt, dried cranberries & curry powder. Cook, stirring, until onions are softened.
Add broth & bring to a boil. Stir in couscous. Remove from heat. Cover & let stand 5 minutes.
Stir in spinach, cover & let stand additional 2 minutes. This wilts the spinach but doesn't cook it.
Fluff with a fork & enjoy.