Mushroom Soup With Tarragon
chia2160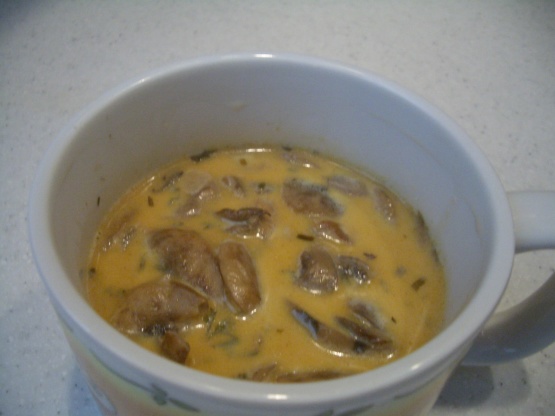 This is a quick recipe. The mushrooms can be chopped if desired. For a creamier soup, garnish with sour cream.

delicious, this would be a great recipe for 2 as an appetizer, i just love mushrooms and tarragon together. this is also quick cooking, less than 30 minutes from start to finish with big flavor, great week night soup, i made it for lunch as i was home today.
Heat oil and butter in pan.
Add the onions and sauté until they are transparent.
Add the seasonings and stir for one minute.
Add the mushrooms and 1/4 cup water.
Sauté until mushrooms are done; about 7-8 minutes. Turn off heat, put lid on pan and let set for about 10-minutes to develop the mushroom flavor.
Add the cream and simmer on LOW for about 8-minutes. DO NOT BOIL.
Adjust salt and pepper.
Serve in two bowls with a dollop of sour cream on top.