Derf2440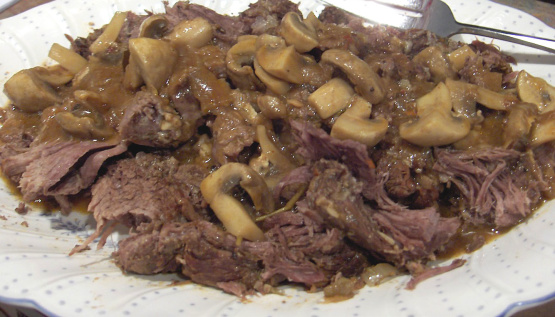 A delicious and simple roast recipe with a very tasty gravy.

This was the best roast I have ever eaten. The gravy was beyond compare. I added a pinch of salt and doubled the gravy. Good thing I did the family couldn`t get enought of it.
Coat meat with flour.
In a Dutch oven, brown meat on both sides in 2 tablespoons olive oil.
Season with salt and pepper.
Add 2 cups of sliced onion.
Combine 1/4 cup each of water and ketchup, 1/3 cup dry sherry, 1 large clove garlic, minced, 1/4 teaspoon each of dry mustard, marjoram, crushed rosemary, thyme and 1 medium whole bay leaf.
Add to pot, simmer covered for 2 hours or until tender.
Remove meat to platter.
Discard bay leaf.
Add 1/4 lb. fresh mushrooms.
Blend 1/4 cup cold water with 2 tablespoons flour.
Stir into juices.
Cook and stir until thickened and bubbly.
Pour gravy over roast and use the rest for wide egg noodles you have cooked and drained.
I usually double the gravy.