Prep 10 mins
Cook 12 mins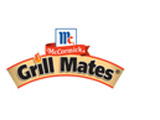 1 lb lean ground beef
1⁄4 cup crumbled blue cheese
1⁄4 cup finely chopped red onion
1 (7 7/8 ounce) package McCormick® Grill Mates® Steakhouse Mushroom Steakhouse Burgers Seasoning Mix
4 kaiser rolls
Directions
MIX ground beef, blue cheese, onion and Seasoning Mix until well blended. Shape into 4 patties.
GRILL over medium heat 4 to 6 minutes per side or until burgers are cooked through (internal temperature of 160ºF). Toast rolls on the grill, open-side down, about 30 seconds or until golden.
SERVE burgers on toasted rolls with desired toppings and condiments.