Black and Blue Burgers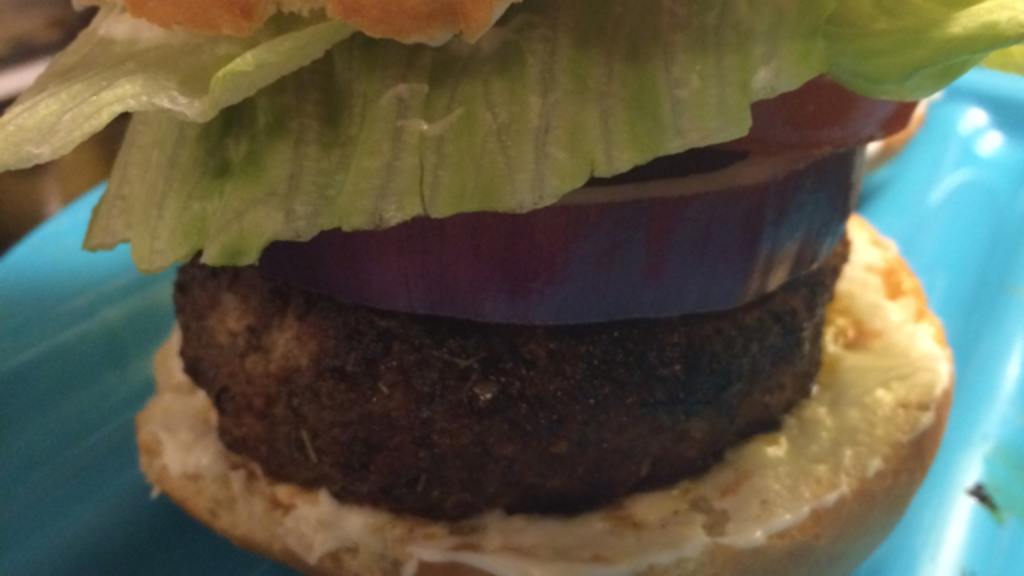 Ready In:

41mins

Ingredients:

20
directions
You will need 1/2 pound blue cheese total (get the block type cheese, not the crumbled stuff in packages).
Prepare your dressing by crumbling 3 ounces of cheese and mixing it thoroughly with the other dressing ingredients and setting aside to chill (do not do this more than a few hours before).
Mix together your spice mix in a large shallow bowl or plate and set aside until needed.
Mix together chuck and round, then separate mixture into 1/3 pound pieces (just over 5 ounces)- you should have 6.
Divide each piece in half and form into a thin patty and place onto wax paper on whatever platter you are working with.
Take the 1/3 pound of blue cheese and cut into 6 divided sections (approximate) and place thin slices onto 6 of the patties you have formed.
Cover these patties with the remaining 6 patties and form a pinched seal around the edges, making it tight.
Pick up each patty, and gently reform the burger and pat it back out to thinness, if needed; rest them on waxed paper.
Take patties one by one and coat in the seasoning mixture, not forgetting to coat the side edges and patting them nicely flat when finished; rest on waxed paper.
Cook over heated coals or on gas grill until it is cooked through or temperature reads 160F (do not press on patties while grilling).
Allow patties to rest 10-15 minutes after cooking for cheese to settle.
Serve on split kaiser rolls (may toast them if you like) with appropriate condiments: lettuce, tomato, sliced red onion, and a little blue cheese dressing (instead of mayo; optional).
Join The Conversation
I made this burger for the family and it was DELICIOUS!!! So yummy and flavorful. I would make a double recipe of the sauce to use on sandwiches or left overs next time. We were planning to go out to eat at a fancy burger joint and just couldn't see spending $8 on one burger (that didn't even include fries). We stayed home and googled black and blue burgers. We were very happy we decided to just grill our own. We saved money and had left-overs for lunch! :) Great recipe!