Tread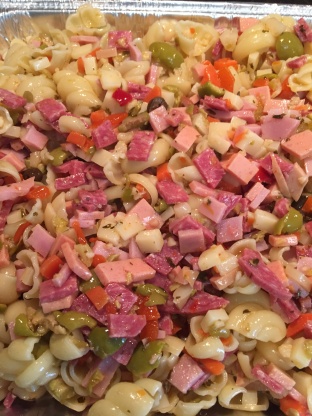 This is slightly different than another recipe for Muffuletta Salad that's posted here. Originally from a Good Morning America Show from January 2001 with Emeril Lagasse.It's a great meal with some crusty bread in the summer when it's too hot to cook!

Top Tweak by Tread
Your prep time can be cut in half if you live where you can obtain a jar of New Orleans style olive salad at your local grocery. Boscoli's is my favorite but Rouses makes a decent version as well, buying the jarred salad will save you a lot of chopping time and all you have to do is toss it with your pasta, meat and cheese.
6

cups water
2 1⁄2 teaspoons salt

1

lb small shell pasta or 1 lb other small dry pasta
1⁄2 lb bulk salami, cut into 1/4 inch dice

1

lb bulk provolone cheese, cut into 1/4 inch dice
1⁄2 lb bulk mortadella, ham, cut into 1/4 inch dice
1⁄2 lb bulk boiled ham, cut into 1/4 inch dice

20

pitted jumbo black olives, sliced

20

large pimento-stuffed green olives, sliced
1⁄4 cup minced onion
1⁄2 cup celery, diced

1

cup fresh parsley leaves, chopped
1⁄4 cup fresh thyme leave

1

cup extra virgin olive oil

6

tablespoons cider vinegar

1

teaspoon Worcestershire sauce
1⁄2 teaspoon hot sauce (to taste)

1

tablespoon fresh garlic, minced

1

teaspoon pepper, freshly ground
Combine water and 1 teaspoon salt in a large saucepan and bring to a boil over high heat.
Add pasta and cook uncovered, stirring occasionally until tender, about 6-8 minutes.
Remove from heat and drain.
Rinse with cold water and drain again.
In a larger bowl, combine pasta,salami,provolone,mortadella, boiled ham, olives,onion,celery,parsley, and thyme.
In a small bowl, whisk together vinegar,worcestershire,hot sauce,garlic,pepper, and 1/2 teaspoon of the salt.
Then, gradually whisk in the olive oil.
Pour over salad mixture and add remaining 1 teaspoon of salt.
Toss to mix well.
Store in an airtight container in the refrigerator for at least eight hours before serving.