Mozzarella Basil Bruschetta
Nimz1466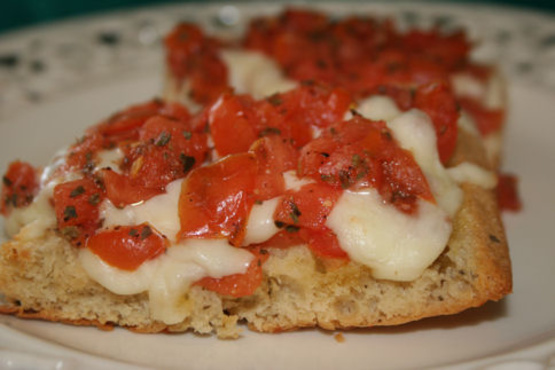 This is a great light appetizer. You can add whatever you would like each time you make it.

Top Review by AG427
I had something similar to this at the Olive Garden years ago. I followed the recipe for the most part, but I substituted store bought garlic bread (Pepperidge Farm) for the Italian bread and that added buttery garlic flavor that went perfectly with this.
Cut each slice of bread in half; place on an ungreased baking sheet and brush with oil.
In small bowl, combine the tomato, basil, pepper and salt.
Spoon 1 T over each piece of bread; top with cheese and remaining tomato mixture.
Bake at 375 degrees for 10-12 minutes or until cheese is melted.