Morrocan Burgers With Spicy Mayo
Prep 10 mins
Cook 10 mins

A great twist to the classic burger. Choose ground chicken or turkey and add all of the delicious ingredients for a taste explosion! This is a delicious Chateliaine Magazine recipe. Enjoy!
Directions
Oil grill. Heat barbecue to medium. In a small bowl, stir mayo with lemon juice, cilantro, garlic, cumin, paprika and cayenne.
In a medium bowl, whisk egg. Stir in bread crumbs, salt and pepper. Add chicken, olives and apricots. Mix well. Divide into 4 portions, then shape into burgers ½ inches (1 cm) thick. Make a shallow depression in centre of each to prevent puffing. Slice zucchini lengthwise. Barbecue with lid closed until zucchini have grill marks, 5 min, and burgers are cooked, 5 to 6 min per side. Good tucked into pitas with onions and peppers. Dollop with spiced mayo.
Reviews
Most Helpful
Yummy meal. I didn't add the olives or apricots, but otherwise kept true to the recipe. The tukery burgers were great. I especially loved the sauce. Yummy. The zucchini was perfect since I still have a ton in my garden. Thanks!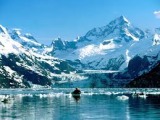 These had such a great and unique flavor!!! And they were very moist for turkey burgers. The sauce was fantastic. Made for ZWT 9!

These were very delicious! I loved the unique flavor and the ease of this recipe. I used turkey, simply because it was easier and the burgers came out surprisingly moist for turkey burgers. We really liked the pita bread option on these as well. I served them alongside oven baked French fries and Tunisian Tomatoes for a delicious African meal. Made for the Moroccan and Tunisian round of ZWT9 for team Tasty Testers!