Monell's Strawberry Lasagna
-Mary-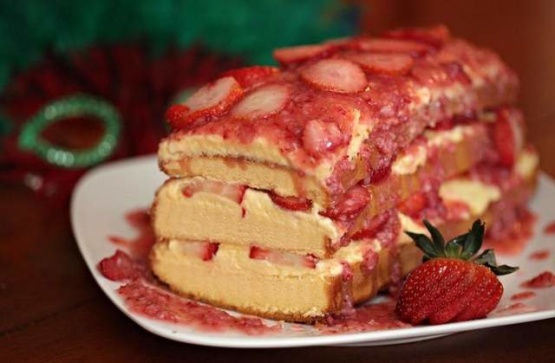 Strawberry Lasagna hails from a restaurant in Nashville, Tenn. It's absolutely delightful, made of layers of pound cake, a cream cheese filling, strawberries soaked in kirsch and strawberry sauce.
I usedSara Lee'spound cakes available in the freezer section. Any pound cake will do, but this one was dense, so it was easier to slice.
In the bowl of an electric mixer, blend cream cheese, pudding mix, cream, milk and confectioners' sugar on high speed until light and fluffy.
In a large bowl, mash the strawberries with the kirsch and granulated sugar. Most of the strawberry mixture will be used for the filling. For the topping, puree ½ cup of the strawberry mixture in a food processor. This will be used later as the lasagna sauce for the top of the dessert. Refrigerate until ready to use.
To assemble, slice the pound cake loaves lengthwise using a serrated knife or bread knife, into ½-inch slices. Line the bottom of a metal or glass 13-by-9-inch baking dish with a layer of sliced pound cake. Layer with half the cream cheese mixture, then a layer of strawberry mixture. Layer again with cake, cream cheese and strawberries. Repeat until you've used all of the ingredients.
To serve, cut the lasagna into 3-inch squares. Swirl the reserved strawberry topping on top of the dessert to make it look like sauce.