teresas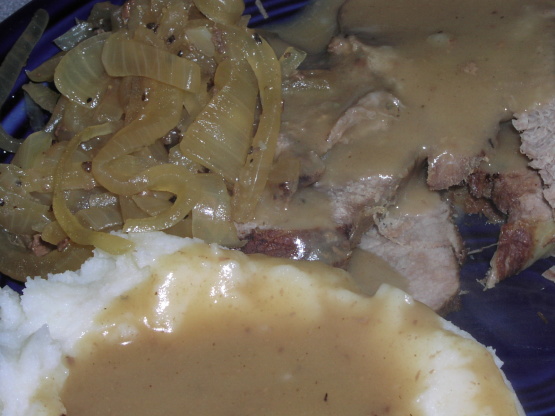 This is an old family recipe and it is the only pot roast recipe that I ever make. It is deceptively simple but the flavours just seem to go together incredibly well. The taste is quite different from the usual. Don't be tempted to put in more water than is called for. The moisture comes out of the onions and the meat and you end up with a delicious broth.

Thank you Sue for such a wonderful tasting pot roast. You were certainly correct to point out no extra liquid should be added. We had a truck load of the most wonderful tasting gravy!! I do not have a dutch oven, so I used my steel wok to cook the roast in. We will definitely treasure this recipe!!
In a Dutch oven, brown the pot roast in the oil.
This will take about 15 minutes to get all surfaces browned.
Add the remaining ingredients and bring to a boil.
Lower the heat and simmer very slowly for 3 hours.
Take the roast out and keep warm.
Strain the gravy (serve the onions as a side dish).
Mix the flour with water and thicken the gravy if desired.