Mom's Meat Pie (Tourtière à Ma Mère)
Chouny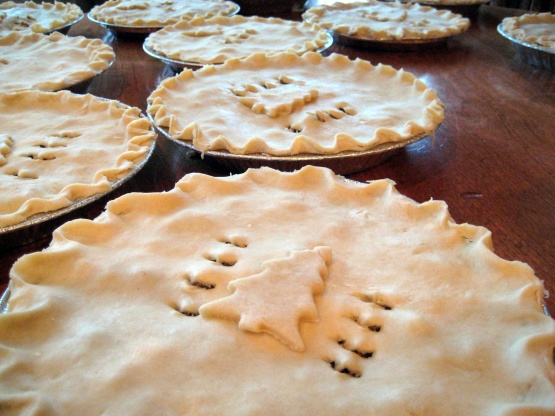 Here's a meat pie (tourtière) my mother made in our family for many years. This wonderful recipe has been passed on to me and my sisters to enjoy and remember at christmas. This recipe is great for it's simplicity in the ingredients, good meat, good spices and your favorite pie crust. Hope you enjoy!
In a large pan, mix together meats, spices and water.
Bring to a boil, cook at medium heat uncovered until mixture is cooked but still moist (approximately 20 minutes).
Line pie pan with one crust and fill with meat mix.
Top with second crust and pinch to seal.
Cut slits in top of crust to vent, at this point you might want to get creative by adding any christmas decoration with leftover pie crust using a cookie cutter.
Brush crust with beaten egg and place filled pie pan on cookie sheet to catch any drips.
Bake at 350F for 30 minutes until crust is golden.