Mole Coloradito Enchiladas, from Rick Bayless
KateL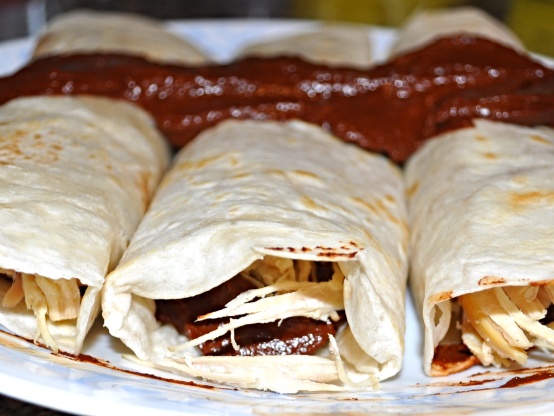 I saw this on Rick Bayless' show, and immediately made it the next day. Absolutely delicious. The mole takes a long time to prepare, but the ingredients are not hard to find and the recipe is not difficult to follow. It also makes about a gallon of sauce, so you'll still have leftover mole after eating all the enchiladas. Rick Bayless recommends freezing it, and then defrosting whenever you like. Very convenient when you don't have time to cook: just go to the store and buy a rotisserie chicken and some tortillas, then defrost the sauce and you'll have enchiladas in just a few minutes! I also have used the mole sauce to make wet burritos- yum.

Top Review by KateL
This didn't work for me, probably because I could not find Mexican Chocolate, and used Hershey's Natural Unsweetened Cocoa instead. I don't blame the recipe. By all means, do not use Hershey chocolate for this recipe; it is incompatible with this recipe. To sample the sauce, I was glad I had made 1/4 the recipe, because I didn't have room in the freezer for a gallon of mole sauce anyway. My results were so bad, I was happy to eat leftover shredded chicken from Recipe #369106 prepared in a 2-L pressure cooker with 2 large chicken breasts. I guess I'll order some Mexican chocolate through Penzeys and try this again. At least my beefeater tomatoes were from Mexico! I'm sure I was the problem; Rick Bayless is a great chef! Made for Please Review My Recipe tag game.
16

(8 ounce) dried ancho chiles, stemmed, seeded and torn into large flat pieces

1

lb tomatoes

1

onion, peeled and sliced

4

garlic cloves, unpeeled
1⁄4 cup vegetable oil, divided
1⁄2 cup sesame seeds

1

teaspoon oregano, preferably Mexican
1⁄8 teaspoon ground cloves
1⁄4 teaspoon black pepper
1 1⁄2 teaspoons ground cinnamon, preferably freshly ground Mexican canela

2

tablespoons raisins

8

whole blanched almonds

4

cups chicken broth

3

tablespoons breadcrumbs

6

ounces mexican chocolate, roughly chopped

1 -2

tablespoon sugar

2

teaspoons salt

2

cups chicken, cooked & shredded
1⁄4 cup parsley, finely chopped
Set a large (10-inch) skillet over medium heat. When hot, lay a few chile pieces on the hot surface in single layer. Press down with a metal spatula until they change color and become aromatic - about 15 seconds. Flip the chiles and press down, toasting other side. Remove to a bowl. When all are toasted, cover chiles with hot tap water and weight with a plate. Let soak until soft, about 30 minutes.
Roast the tomatoes on a baking sheet 4 inches below a very hot broiler until blackened on all sides, about 10 minutes. Remove & cool.
Return chile-toasting skillet to medium heat. Add the onion slices and all of the garlic. Roast the onion on both sides until soft and blackened in spots, about 8 minutes. Roast the garlic on all sides until soft and blackened in places, about 15 minutes. Remove from skillet and cool.
Return the onion-roasting skillet to medium heat. Pour in 1 tablespoon of the vegetable oil, then pour in the sesame seeds. Stir continually until the sesame seeds brown, about 2 minutes. Scrape into a large bowl.
Use tongs to transfer chiles to the bowl with sesame seeds, saving the soaking water. Add the oregano, cloves, pepper, cinnamon, raisins and almonds to the chiles and sesame seeds. Mix well, then scoop half of the mixture into a blender. Pour in just enough chile-soaking water to cover. Cover and blend at high speed until very smooth. Set a medium-mesh strainer over another bowl. Pour in the chile puree and press through with a rubber spatula. Discard the chile skins and sesame seed hulls left in the strainer. Blend the remaining mixture with the soaking water. Strain into the same bowl.
When the roasted tomatoes are cool, peel off and discard skins. Put the tomatoes in the blender. Peel and roughly chop the roasted garlic. Add to the blender along with the roughly chopped onion. Cover and blend at high speed until smooth. Wash and dry the skillet. Set over medium-high heat and add 1 tablespoon of the vegetable oil. When hot, add the tomato puree. Cook - stir almost continually - until the tomato mixture thickens, 10 to 15 minutes.
Set a large heavy pot over medium-high heat. Add the remaining 2 tablespoons of the vegetable oil. When hot, add the chile puree and stir continuously until the mixture becomes very thick - about 20 minutes.
Scrape in the cooked tomato mixture, bread crumbs and chocolate. Add the chicken broth and stir until the chocolate melts. Turn down the heat to medium-low and cook 30 minutes.
Finally, remove from heat and stir in sugar & salt.
To make enchiladas with the sauce, just warm up some tortillas on a skillet or in the microwave. Fill each tortillas with about 2 tablespoons of chicken and 1 tablespoon of mole sauce. Roll each tortilla, and lay three each on 4 dinner plates. Douse each plate with 1/4 cup sauce (I use way more) and top with a sprinkling of parsley. Serve immediately.