Molasses-Glazed Ham Steak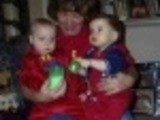 Grill Time!! This is a tasty, quick way to fix a ham steak. It is a Weight Watchers recipe. You could increase the sauce in this recipe to glaze a whole ham that you bake.
Directions
Combine all the ingredients but the ham in a small bowl.
Grill the ham, turning one time.
Brush frequently with the molasses sauce.
Grill about 6-8 minutes, until light brown.
(This could be broiled.).
Reviews
Most Helpful
Everyone said the flavor was good, and this was very simple. I thought it was a bit sweet, but others thought it was very good. I guess it's supposed to be sweet. I didn't have a grill, so I broiled it.

Even my 1 year old loved it (and everyone knows how picky toddlers can be!) This will definitely appear in the dinner rotation again.
Easy and great flavor A+
Holiday Central >