Juenessa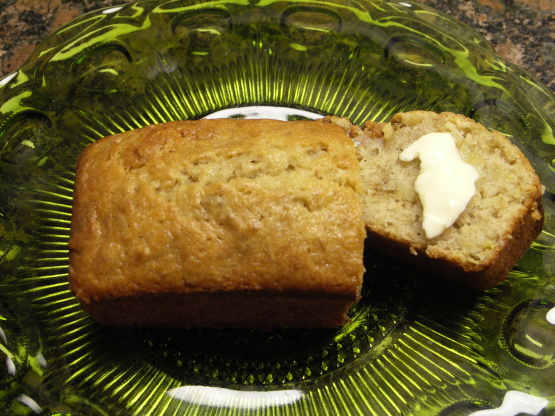 One Christmas, several years ago, I was looking for a good banana bread to give as gifts to my friends. I tried several recipes and this was the one I liked the best. I use a Pampered Chef pan that has four mini-loaves on it and cook in my oven for about 50-55 minutes. Start checking the bread at about 50 minutes. Sometimes I also sub 1/2 to 3/4 wheat flour in place of using all white flour. It's a great bread!

I had never made banana bread before tonight. I was looking for a recipe to make for my boyfriend and his mother and I decided on this one. They both LOVED it! For never making any type of banana bread before I think that was great. It was very very good. I was a bit worried because after cooking it for 1 hour the middle was still very doughy but at exactly 1 hour and 20 minutes it was perfectly done. Put a little butter on the middle and it's perfect. Great recipe!
Preheat oven to 325 degrees.
Spray one 9 X 5 inch loaf pan with non-stick cooking spray.
Blend together the eggs, buttermilk, oil and bananas.
Sift together the sugar, flour, baking soda and salt.
Add to banana mixture.
Stir in nuts.
Mix well.
Pour into prepared loaf pan.
Bake 1 hour and 20 minutes, or until a cake tester inserted in center comes out clean.