Mixed Green Salad With Parmesan Pepper Dressing
Cook4_6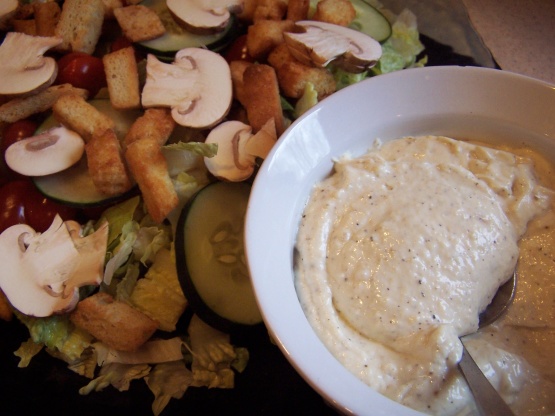 This recipe is from Paula Deen. This salad is can also be served with Spiced Croutons and the recipe is included.

Great salad! Fresh and tasty and loved the croutons. I halved the recipe, otherwise made just as directed and wouldn't change a thing. I had way more dressing than was needed but that's okay 'cause I can use it for lunch tomorrow! Thanks for posting your recipe!
For dressing, in medium bowl, whisk together cheese, sour cream, buttermilk, mayonnaise, garlic, mustard, lemon juice and pepper.
Cover, and chill.
For croutons, preheat oven to 400 degrees.
In small bowl, whisk together oil, butter, garlic salt, thyme, basil and pepper.
Place bread cubes on a rimmed baking sheet; drizzle with oil mixture, tossing gently to coat.
Bake for 20 minutes, stirring occasionally.
Note: leftover croutons can be frozen in a zip-top bag for another meal.
For salad, in large bowl, combine salad greens, mushrooms, cucumbers and tomatoes.
Drizzle with half of dressing, tossing gently to coat.
Serve salad with remaining dressing and top with spiced croutons just before serving.