Olive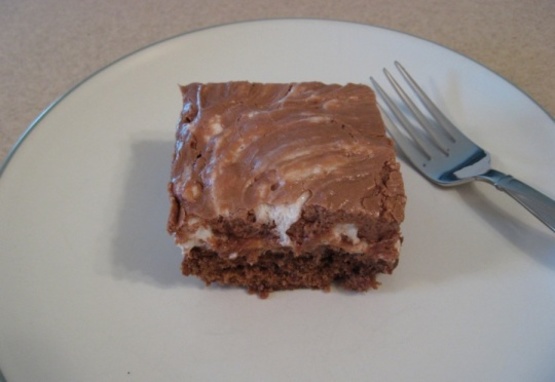 This is a gooey and chocolaty dream. It's very moist. It's a great dessert for potlucks, dinner parties, etc. Make sure you get a piece though because it will disappear quickly! I got the recipe from the Southern Living 30 Years of our best cooking book. It's a great cook book!

I have been using this recipe for years..It makes the best Mississippi Mud cake I have ever tasted....very moist and flavorful....also quick and easy....I usually melt my butter in the microwave in a mixing bowl, then pour all of the cake ingredients into the bowl and stir with a spoon until well blended..doesnt get any easier....thanks for posting...
Preheat oven to 350°F.
Lightly grease a 9x13 inch pan.
Melt the butter in a medium saucepan.
Add the cocoa and stir.
Remove from the heat.
Pour butter mixture into a mixing bowl and add sugar and eggs.
Mix until blended.
Add the vanilla.
Mix in the flour and salt.
Stir in the pecans.
Put batter into prepared pan and cook for 35 minutes or until done.
Remove from oven and sprinkle with marshmallows.
Cool in the pan on a wire rack.
For the frosting: Combine all of the ingredients and mix until smooth. Spread frosting on cooled cake.
If your frosting is too thick, add more milk.