Tisme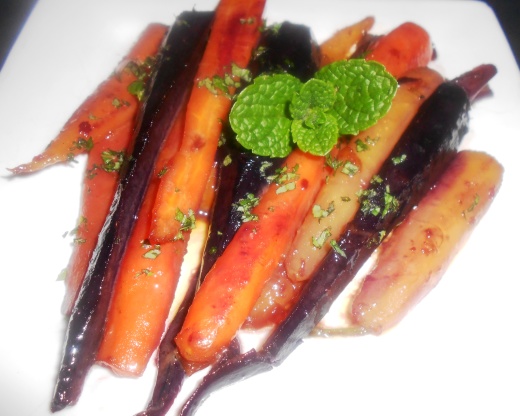 Found on bunch carrots from Siri Produce Inc. in Oregon. DON'T use those awful "baby carrots" from the grocery store. Whole carrots (small-medium sized) and organic are best. If the carrots are small leave whole but if they are medium-sized cut in half lengthwise. If your carrots are good quality they don't need to be peeled. Recipe adapted slightly.

Top Review by Tisme
I used heritage, organic carrots............ A great find at a local market!<br/>I think I may have over steamed them just a fraction, because when added to the pan with the sugar and butter mix, I had to be extra careful they did not break up. Maybe it was because of the different type of carrot, but most probably because I over steamed them a fraction!<br/>BUT not matter, they turned out really well and tasted delicious. DS and DH loved them and they are not really fans of carrots.<br/>This was so easy, and I will be making this again for sure! Thanks Cookgirl...Wonderful recipe!
2

bunches whole carrots, tops removed
1⁄4 lb butter (1/2 cup butter although I used only 1/3 cup)

2

tablespoons sugar (unbleached or raw)

1

tablespoon of fresh mint, chiffonade (*FRESH* mint only!)
salt and black pepper, to taste
Lightly steam the carrots in a steamer basket. Drain.
Wash out the pot, dry it with a towel then heat the pan on medium heat.
Add the butter and sugar until butter is melted and sugar has dissolved.
Add the carrots to the pan and cook until butter starts to brown, the carrots have a nutty fragrance and are fork tender.
Arrange the carrots on a serving platter.
Season with salt (we liked it with French grey sea salt) and cracked black pepper. Garnish with the mint. Serve immediately.