Mini Seafood Cakes With Creamy Lemon Sauce
Nif_H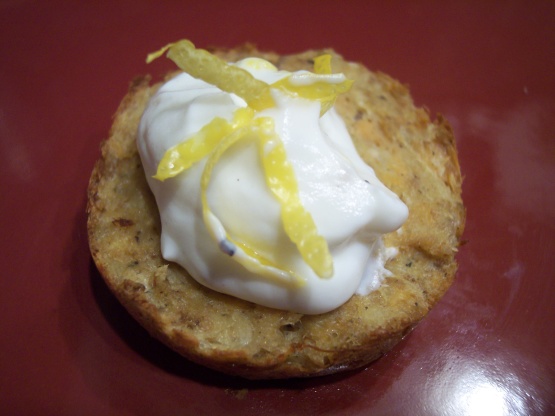 For this appetizer, I added a few new twists to an old favorite. But these are baked instead of sautéed. And I add crabmeat, which I think results in a more robust flavor sensation. Shaping them into miniature cakes instead of full-size patties makes them a fantastic appetizer choice for your next get together, whether it's a buffet potluck or Sunday Brunch. You can serve them as is or with the light and refreshing Creamy Lemon Sauce (which utilizes sour cream instead of mayonnaise, which is safer for the buffet table).

Top Review by Nif_H
Really nice flavour but a little on the dry side. I had some trouble getting them out of the pan so I left a bit of each behind! I would maybe use another egg for binding and for moisture. I really really like the dip! The sour cream and lemon juice are great together. I was out of lemon pepper so I opted to use freshly ground pepper and lemon zest. It worked out great. My DH really enjoyed this as well. Good luck in the contest! :)
Preheat oven to 350°. Grease or butter 18 cups of muffin pans; set aside.
In a bowl, combine the canned salmon, crabmeat, onion, eggs, bread crumbs, Worcestershire sauce and Liquid Smoke. Mix thoroughly.
With a large spoon, gather bits of the salmon mixture (about the size of a golf ball) and drop into a cup of the prepared muffin pan. With your fingers or back of a spoon, flatten them into the muffin cup. Brush your fingers (or spoon) across the tops so they are smooth and even.
Bake at 350° for 20-25 minutes, or until the edges are very lightly browned.
While the cakes are baking, mix together the sour cream, lemon juice and lemon pepper until well blended and creamy. Store in refrigerator until ready to serve.
Remove pan from the oven, and let cakes cool for about 15-20 minutes. Remove cakes and transfer to serving platter. Serve with Creamy Lemon Sauce.