Mini M&M's (Or Chocolate Chip) Cookies
lolagran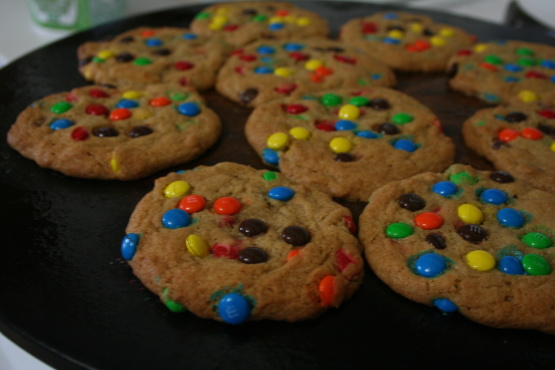 Bring smiles to the little ones in your life by whipping up a batch of these yummy cookies! The long-time favorite treat of my own children, these cookies can be made using your choice of mini M&M's, chocolate chips, or butterscotch chips. Enjoy!

This is a fabulous recipe. I used all dark brown sugar and substituted all butter for shortening. I used one bag of m&ms in the dough and then pressed m&ms from a second bag onto the tops of the cookies before baking. Made them turn out very pretty. Watch carefully they are easy to overbake but if watched they are delicious and this batch makes a lot! Pictures of my cookies are at the top.
Cream sugars and shortening together; stir in eggs, vanilla and hot water; add dry ingredients and stir until combined; gently stir in mini M&M's last.
Drop dough by heaping teaspoonfuls onto an ungreased baking sheet.
Bake at 375° for 9 minutes or until cookies are light golden brown.