Microwave Sliced Baked Potatoes
TnuSami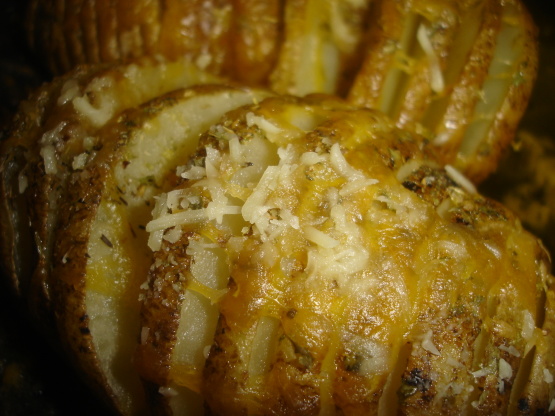 Recipe source: Great American Recipes.

I made this according to the directions, but the potatoes were way overcooked. It was probably just me. I'll definitely try these again, just cook for less time than the recipe calls for.
Place handle of a spoon or table knife alongside the potato to prevent your knife from slicing all the way.
Place potatoes in a micro-safe dish or pan.
Sprinkle with melted butter and chopped parsley, chives or sage.
Microwave on HIGH power for 10 minutes, rearranging the potatoes after 5 minutes.
Let rest for 5 minutes.
Sprinkle with grated cheddar and parmesan cheese.
Microwave for another 4 to 6 minutes at HIGH power until cheeses are melted and potatoes are soft.
Sprinkle with salt.
Serve potatoes as a side dish or as a main dish with just a salad.