VickyJ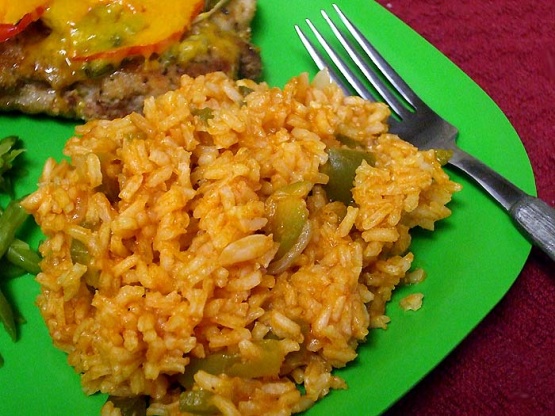 This is an easy and tasty recipe for Mexican rice. You can add some frozen peas and diced carrots (3/4 c.) when you add the water, if you like.

Top Review by VickyJ
Hello there! This was a good rice dish, but I thought it needed a bit more flavor. I added a bit more chili and garlic powder. This could be because of my stove or the brand of rice I used, but the cooking time was a little off. I had to add more water (1/2 cup) and finish it off in the microwave. My meat dish was done before the rice. Overall, it was very good and had it the next night with meatloaf. Thanks for the recipe! :)
Wash and drain rice.
Put peeled onion and bell pepper in food procesor and pulse until it is in very small pieces.
Put olive oil in pan and saute drained rice for a couple of minutes.
Add onion and bell pepper mix and saute for about 1 minute.
Add water, bouillon power, tomato sauce, chili powder, cumin, garlic powder and frozen peas & carrots.
Boil at med-high heat until water is down to just below the level of the rice. You should still see some bubbling on the surface. This takes about 10 minutes. Cover pan, turn burner down immediately to simmer and leave for 10 minutes more. Turn off heat and leave rice sitting on the burner for at least 10 minutes, undisturbed and covered. Fluff and serve.