vrvrvr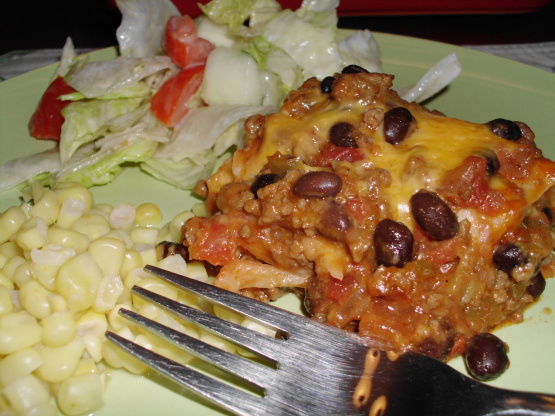 This has been a hit for everyone I've made it for. I think it was originally from a magazine, but I lost the paper recipe years ago and have been making it my own way ever since. I lightened it up a bit with light cheese and lean beef, but you could use the regular stuff.

Top Review by vrvrvr
We loved this casserole! I added a can of Rotel in place of some of the salsa, and I used about 1/2 T. of a homemade taco seasoning. The lasagna had great zip from the green chiles and spicy tomatoes and salsa, and it was heavenly with a bit of sour cream as garnish. Perfect for a crowd! Thanks Chef!
Preheat oven to 350.
Brown the beef with the onions. Drain off fat.
Add the taco seasoning, and stir well.
Add the beans, salsa, chiles, and tomato sauce. Stir well and simmer 5 minute.
Cut each tortilla into quarters.
Spray a 9x13" pan with cooking spray. Layer half of tortilla pieces, completely covering bottom of pan.
Ladle on half of beef mixture, covered by half of the cheese.
Repeat layers.
Cover with foil (I spray the foil with cooking spray so it doesn't stick to the cheese) and bake for 30 minute Allow to set up for 5 min before cutting.