Peter J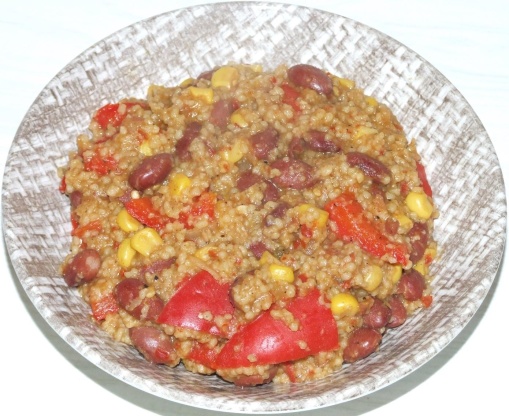 My boyfriend came up with this recipe, we like it so I hope you do too!

Pass congratulations onto your boyfriend Sugarpea, while not the tastiest dish I've ever eaten it sure was good for something with two minutes preparation time! I used a 'Zaar Taco Seasoning recipe (#72663) with fresh ground chilis rather than pre-bought and that gave it some real kick. In the hotter form Would make a good start to a Friday night football game! Something that isn't shown on the directions is stirring every five minutes or so is really required with this sort of recipe to develop the flavour and to avoid sticking. Also the cooking time of ten minutes is very optimistic and it will more likely take thrity minutes over a low heat, it is also worth reducing the heat from medium low to very low gradually as the amount of liquid reduces.
Add everything together and cook on low heat until water is absorbed and couscous is fully cooked.